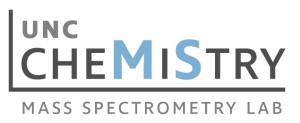 Overview of Services
The UNC Department of Chemistry Chemical Research Instrumentation, Teaching, and Core Laboratories, CRITCL, Mass Spectrometry Core Laboratory specializes in small molecule analysis. Our services include, but are not limited to, quantitative mass spectrometry, liquid chromatography separations, fragmentation and structural elucidation, MS/MS, & MSn, mass spectrometry, complex mixture analysis, molecular formula confirmation, high resolution and accurate mass, analysis, & trace metal determination/quantitation.
The Mass Spectrometry Core Laboratory provides individualized user training for undergraduate, graduate, and post-doctoral scholars of the Department of Chemistry. In addition, the facility aims to provide the highest quality mass spectrometric services possible to members of the UNC Chapel Hill Department of Chemistry, UNC campus community and surrounding Research Triangle areas.
Location and hours of operation
Hours
Location

Staffed: 8 AM - 5 PM

Trained user availability: 24/7

125 South Road, Caudill Laboratories 040

Chapel Hill, NC 27599
Links and Resources
Staff